Your process automation experts
We are dedicated to being the most customer focused provider of process automation and system integration solutions. This starts with a positive team culture, a willingness to keep learning and improving how we do things, being true to our word and forming enduring relationships based on mutual respect.
Our team are industry experts, committed to being the best in their field, and creating automation solutions that meet and exceed our customers expectations every time.
Teamwork
Working together positively towards a common goal
Excellence
Challenging ourselves to grow, develop and achieve at our highest level
Respect
To value and recognise others
Balance
Making quality time for work, rest and play

Previously a shareholder and director of another process automation company, Rex founded Nemesys in 2008. He has built a strong and reputable team who are committed to delivering high quality process automation and system integration solutions to their customers.
Rex has a high level of technical expertise, as well a strong ability to communicate technical information to all levels.

Rex gains great satisfaction from seeing businesses become more efficient and productive with the introduction of automation technology.
Director/Business Manager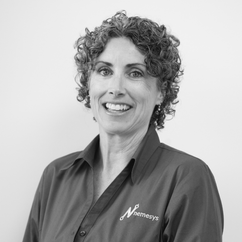 Ruth has been with Nemesys since 2010. Prior to this she was running her own business, eRROQ, helping businesses with administration processes and systems. She also ran Milestone, a family business established with her brother from 2000 – 2007.
Ruth's exceptional organisational qualities and communication skills ensure all aspects of the business run smoothly.
Her current role involves the creation and implementation of strategic plans in the business, and management of the day to day administrative and financial activities.

Tony joined Nemesys in 2017. He brings many years of experience in management roles within the process automation industry.
He is responsible for the leadership of engineers, resource planning, project management, quoting, invoicing and customer/supplier relationship management.
His strong interpersonal and leadership skills contribute to the positive working environment and have allowed Nemesys to continue to grow and evolve.
Tony holds a MBA from Henley Business School and a Bachelor of Technology in Engineering and Automation from Massey University.
Alan joined the Nemesys team in 2013, after moving from a similar role with another company. His role involves industrial automation design, engineering and commissioning.
Alan holds a Diploma in Electrical engineering from Otago Polytechnic.
He brings a great level of experience to his role and is always highly organised and reliable.
Tahi has been with Nemesys since 2015. He has previous experience working as an Automation Engineer in the Pharma as well as Oil and Gas industries.
Tahi holds a Bachelor of Engineering in Automation and Control from Massey University in Palmerston North.
His role involves the implementation of process design and providing support over the whole integrated system from documentation to PLC software and HMI. He is focused on ensuring that customer expectations are met and exceeded, and enjoys the teamwork aspect of the work he does at Nemesys.
Wayne started his role with Nemesys in 2016. Before that he was a Senior Control Systems Engineer for ABB working in the Waikato Hydro Power scheme.
His current role involves System integration of HMI and PLC's and support of customer automation solutions.
Wayne holds NZCE and AAVA Telecommunications National Certificate in Telecommunications Level 4 from Waikato Institute of Technology.
His greatest strengths are his adaptability and the ability to work well in a team environment.
Mel started at Nemesys in 2017 after gaining experience in a similar role as a Systems Integrator at another company.
Mel's current role involves developing software to meet the requirements of the customer with a focus on usability and improvement of existing systems
He has a strong personal interest in software development, and enjoys working in a team environment delivering smart, customer focused solutions.
Mel holds a Bachelors of Engineering from Waikato University.
His biggest accomplishment since starting with Nemesys has been getting certified in Ignition.
Ashley started at Nemesys in 2017. His role involves System integration using PLC, HMI, Mechanical and MES systems to provide effective automated solutions.
Ashley holds a Bachelor of Engineering (1st Degree Hons) from Waikato University.
His greatest strengths include a keen eye for detail and a strong drive to learn new techniques and keep developing his skills.
His biggest accomplishment since starting with Nemesys has been completing the Synlait Lactoferrin Upgrade Project.
Kate has recently come on board with Nemesys to help look after the day to day office administration and accounts. Prior to this she was Office Manager for an Insurance Loss Adjusting company.
Kate is the 'Chief Organiser' and loves being part of a tight-knit team with a professional but fun culture.